Bobs and LoLo
Bobs – Robyn Hardy
Robyn is funny, caring and creative - a great combo! Her bright red hair and freckles fit perfectly with her sunny personality. Robyn is an enthusiastic individual with a passion for teaching and conservation education. She has a Bachelor of Arts (honours degree majoring in linguistics) from the University of Victoria and a Bachelor of Education from the University of British Columbia. On stage she loves to sing, dance, clap, snap and tap!
LoLo – Lorraine Pond
Lorraine is adventurous and energetic. Her messy mop of curls and infectious smile mirror her fun-loving and outgoing personality! Lorraine is a dynamic performer with a flair for creating connections between young audiences and the natural world. After completing a Bachelor of Human Kinetics at the University of British Columbia, she spent five years as an environmental educator at the Vancouver Aquarium. On stage she loves to sing, dance, wiggle, slide and glide!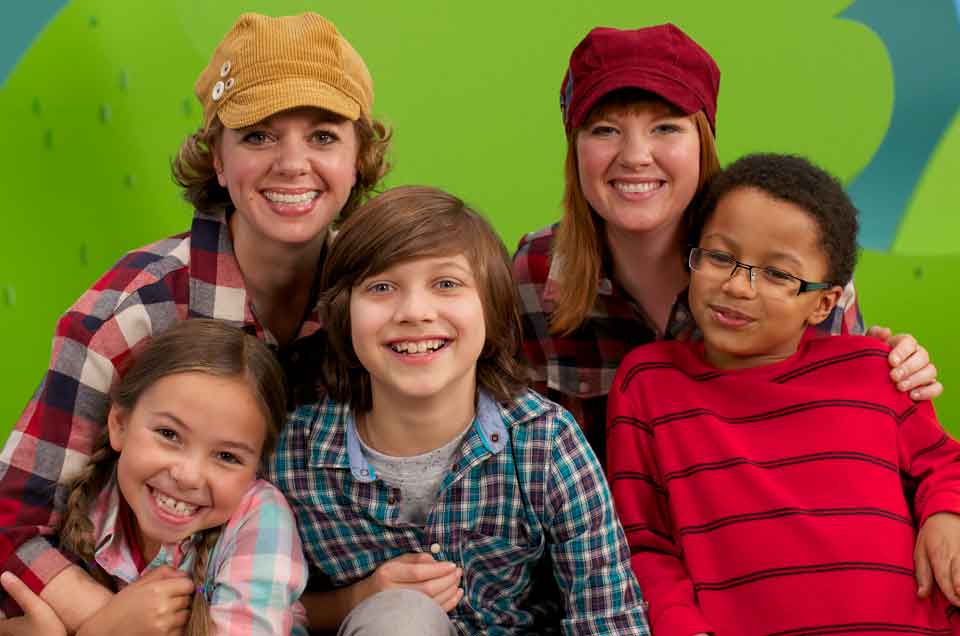 are dedicated to connecting kids to nature with music, movement and make-believe. Sharing musical adventures that engage, inspire and educate, they teach their young audiences to care about themselves, their neighbours and the planet. Growing up together on Vancouver Island, Robyn and Lorraine have always shared a love of the natural world and a passion for working with children. Creating the dynamic duo Bobs & LoLo has allowed them to combine their diverse academic backgrounds with a mutual love of teaching and the creative arts.
This award-winning Canadian duo has been critically acclaimed for their music and programming by the music industry, educators and parents alike. What began as a small collaboration between the two women in 2003 has led to numerous awards including recognition from the Parents' Choice Foundation, Western Canadian Music Alliance, the Society of Composers, Authors and Music Publishers of Canada as well as the Juno Awards (2010 and 2012 nominees). Robyn and Lorraine are also thrilled to have a new preschool television series (Sing, Dance and Play with Bobs & LoLo) now airing on the national Canadian preschool television network – Treehouse TV!